Welcome to the new official website of Julius Wechter! Excuse us while the dust settles--we're still getting the rest of our features ready to go! Check back here when we'll have the new gallery and biography available online, and watch this page for the latest in news regarding Julius Wechter and his Baja Marimba Band!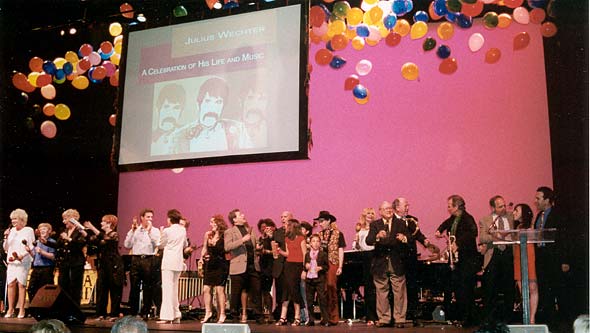 The Balloon-Filled Tribute Finale!
A Tribute to the Music of Julius Wechter, to benefit the Tourette's Syndrome Association took place Sunday, April 28th at 7 p.m. at the historic landmark Alex Theatre in Glendale, CA. Julius, who passed away in 1999, was celebrated for his music, spirit, and humor.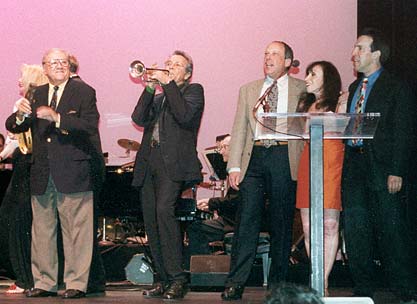 The concert was a wonderful event, hosted by Mitzi McCall and Charlie Brill. Featured performers included Christa Jackson, Hal Blaine, Sally Kellerman, Sue Raney, Nancy Dussault, and many others. The Baja Marimba Band was led by original member Bernie Fleischer and included other past Baja members, along with Jules Greenberg and John Pisano. Pictured at right (L-R) are Bill Dana ("Jose Jimenez"), Herb Alpert, producer Bruce Kimmel, Cissy Wechter, and David Wechter.
If you've attended the show and want to tell us how it was, or read the comments of those who've attended, please visit our forum...we'd love to hear from you!
The show was produced by Cissy, Jerry, and David Wechter and directed by Bruce Kimmel.
Thanks to Steven Gross for passing along tribute information, Jeff Kaufmann for forwarding the final program, and Steve Sidoruk for all the photos! Thanks, also, to all the Julius Wechter fans who turned out for this tribute to help raise funds for the Tourette's Syndrome Association!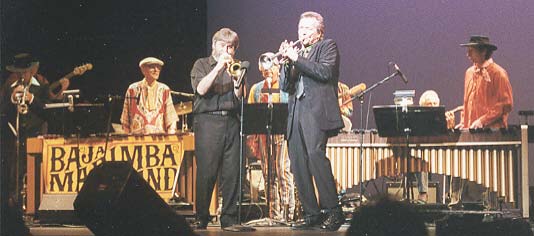 The Baja Marimba Band, featuring Bob Findley and Herb Alpert.